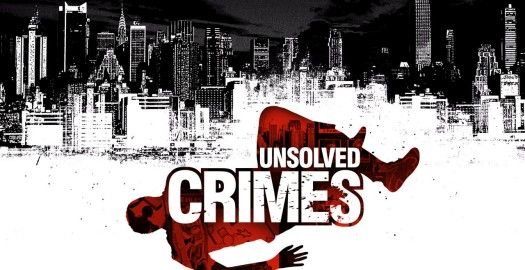 Game information
You might also like these adventure games
Advertisement
Adventure games by Now Productions
BITMAP BOOKS
Before examining the evidence of Unsolved Crimes, let's begin with a quick quiz.
A timed series of one hundred-plus questions, each marked for correctness and contributing to a final grade or outright failure and premature dismissal, sounds like:

A) High school all over again

B) Qualifying exam for competitive position

C) Yearly income tax forms

D) A fun way to spend time on the Nintendo DS
If you answered any combination of A, B, or C above but not the all-important D, the case is closed already, as Unsolved Crimes will not be for you. But if the query seems unfairly loaded at first, it's not nearly as far-fetched as it might seem. Adventure gamers embrace puzzles as a cerebral challenge, after all, and recent DS successes like Brain Age and Professor Layton and the Curious Village have proven that sometimes the best tests are the simplest (if anything but the easiest). So if the prospect of a little intellectual duelling with developers sounds like it just might be entertaining in an academic sort of way, let's explore the facts of the game in a little more detail.
In Unsolved Crimes, players assume the role of an anonymous new recruit in the Homicide Division of the NYPD. It's a format we've seen before in CSI and Law & Order games, and the concept should have worked just as well here. This time, however, the manual states that you're "fresh from the academy", which is a rather unfortunate point the game proceeds to drive home at every conceivable opportunity. I'm pretty sure that "homicide detective" and "clueless rookie" aren't meant to be synonymous, but here they are, to the player's detriment.
Over the course of seven distinct and unrelated cases (and an optional tutorial), you'll team up with your partner, Marcy, in investigating crime scenes and… well, reporting to your boss, Captain Abbot. That's about it. If you expected traditional detective elements like questioning witnesses or doing any legwork to track down new leads, you'll be sorely disappointed. Technically you'll also analyze evidence and testimony, but only in the most superficial sense, as such activities are limited largely to viewing close-ups of your inventory and reading through your case file, most of which is provided for you automatically.
Each case begins with a briefing that establishes the basics, including the only few viable suspects you'll ever get to consider. Off you go to the crime scene at that point, but never in time to see the actual body or any other people. The best you can hope for is to find clues that others have missed to help flesh out the crime. Given the limited size of the area and scarcity of important objects, it's amazing that anything was overlooked, but clearly it's up to you to scour the single-room locations with a more discerning eye.
According to Unsolved Crimes, however, the real secret to finding answers is in asking the right questions, and it's this element that makes up the bulk of the gameplay. Whenever you discover a new item or fact that the game deems relevant, Marcy will pose a query that needs answering. Cases can include more than fifteen different queries, though many of these are multi-part questions in their own right. It's unclear whether Marcy herself knows the answers, as her reactions seem to vary, but each answer you give is immediately evaluated as right or wrong. Right answers earn you the right to move on, while wrong answers lead to the loss of a precious "star", representing Marcy's level of confidence in your abilities. Select topics can also add stars if answered correctly, but lose them all and you're instantly turfed off the force for being an incompetent fool.
There are both pros and cons to using a test system as the basis of a game like this, at least in theory. On the plus side, it's a natural way to help sort through evidence. Unlike many adventures, a crime mystery is a large puzzle in and of itself, and connecting details is like adding small new pieces until it all comes together. And as a facilitator in that sense, Unsolved Crimes certainly succeeds. There's a very logical progression to each case, and there's never any concern that you'll lose track of key details, which is especially important in a handheld game where play sessions can be shorter and more sporadic. There's also something to be said for doling out challenge-and-reward in smaller increments than traditional adventures. It's practically impossible to get stuck in this game, and hearing the triumphant music play as "RIGHT" splashes across the screen is an ever-tangible goal in drawing you forward to the next query.
The downside to this approach is that it's all so very linear and blatantly orchestrated. The thrill of a mystery comes from identifying the connections yourself, in a way that incessant hand-holding never allows. The key to balancing these elements is in using moderation, but it's a lesson Unsolved Crimes never learns. Where games like Hotel Dusk and the latest Sherlock Holmes mysteries use tests as a small, supplemental activity, here it is far and away the predominant feature that exhausts its welcome long before the game is over. And the whole grading idea gets a giant "fail" as well. It's meant to add consequence to your decisions, obviously, but does so in such a staggeringly artificial way that it does more harm than good. If there's ever any doubt that you're playing a game and that your presence really isn't required to solve its mysteries, Unsolved Crimes reminds you of it constantly. There's a final scoring summary at the end of each case, which penalizes you for number of mistakes, total time, and hints used. That alone should have been enough, leaving players to feel like real detectives in the meantime.
Adding to the disappointment is the poor execution on too many occasions. The vast majority of questions are multiple choice, and while some are so obvious you can succeed by process of elimination alone, others are far too ambiguous. The latter represent only a small fraction of the total questions overall, but I still lost count of the times that a perfectly valid answer was deemed incorrect with no recourse. One question asks why two liquids both rolled to the right. The first two possible answers are: 1) Both liquids; 2) Moved the same way. Yes, you read right, and your guess is as good as mine. Presumably this is just a text error, but console yourself with that knowledge when you're graded on it. Worse still are the few questions whose answers are blatantly wrong. This is no sour grapes on my part, as one such example proceeded to confirm that its answer was wrong immediately afterwards. I felt vindicated but no happier as I disgustedly reloaded my latest save, which you can fortunately record at any time (further undermining the value of the grade system in the first place).
To its partially redeeming credit, some of the game's queries are more contextual and inherently more interesting. Rather than simply selecting answers from a list, you'll need to highlight items at the crime scene, identify multiple testimonies and evidence, or mark locations on a map. These at least feel like an attempt to involve you in the solution, so it's a shame that they tend to be few and far between. Strangely, Marcy asks you for a "hunch" about the killer's identity once per case, long before you have all the evidence you'll need. This would have been a perfect time to have players highlight reasons for the deduction, but instead you simply guess and move on, with no repercussions for being wrong.
Fortunately, there are also a few other puzzles mixed into the basic investigative work. Examples include a couple small physics experiments, a torn paper jigsaw, a single slider, and a handwriting comparison. One specific case requires using luminol on certain objects, though forensic tests are inexplicably absent most of the time. None of these puzzles are at all original, but they do add some much-needed variety, and most make at least a cursory use of the touch screen to solve. The only time that proves unfortunate is the lone safe you'll need to crack, as controlling the dial is needlessly cumbersome.
The touch screen is also essential in the game's ongoing special case. In between regular assignments are short interludes involving the kidnapping of Marcy's sister. Among the tasks involved are the game's few action sequences, including a car chase and a target practice-like shootout. It's possible these might cause some difficulty at first, but they're anything but demanding and quick to retry if necessary. The same can't be said for the multi-level 3D maze that's not only timed, but complicated by structural collapses that make the 2D map all but completely useless. It accomplishes its goal of ramping up the tension, all right. Pointless aggravation will do that. And in case you're not quite sick enough of mazes at that point, following completion of the regular game comes a bomb scare bonus mission that takes place entirely in another. This includes some promising moments involving a complex riddle, though they're offset by trial-and-error tedium and a scavenger hunt through dingy, winding underground sewers.
The maze might have been easier if the controls felt a bit more intuitive. Unsolved Crimes goes above and beyond many DS adventures, offering full 3D, first-person, free-roaming environments. Navigation is done through some combination of +Control pad, buttons, touch screen, and on-screen directional arrows, allowing you to configure the control scheme in a number of ways. The customization is admirable; the problem is, none of the options are particularly good. Because all investigative interaction is done on the touchscreen, you're either forced to control the camera with the stylus or constantly switch from buttons to stylus every time you move. The tiny location sizes mean it's never that big a deal, but nor is it ever comfortable, and makes you wonder why the game even bothered. Even the point-and-click elements have some problems, as hotspot interaction means tapping objects once to highlight and another to interact, and for some reason the second tap often proves finicky, simply failing to register.
At least the objects are easy to find, as there isn't a lot of detail cluttering the view. Graphically, Unsolved Crimes is more functional than attractive, designed simply in a realistic style. Even the locations are pretty generic, including the likes of a park, hospital and motel rooms, and of course your own office. Sprinkled in between cases are some promising black-and-white cinematics setting the stage for each murder, but they're over all too soon and represent the game's lone artistic inspiration. The story is set in 1976, but there's no visual aesthetic to make the era apparent. And while the inventory items are in 3D, allowing for multi-angle inspections, the game's characters (all two of them that you'll actually interact with) are little more than cutouts with a few different expressions.
With so few characters, you'd think a little voice acting might go a long way, but Unsolved Crimes uses no voiceovers at all. Sure it's the DS, but other games have done it, and even a few key spoken expressions here might have helped create some sorely-needed identification with your colleagues. Ironically, the game's ambient sound provides the subtle exception, as I heard the same doctor paged repeatedly during the hospital investigation. The occasional music track rounds out the aural experience, punctuated by lengthy periods of silence, and I suppose it creates a kind of cheesy-cop-show vibe, but largely inspires a turn-it-down-and-forget-about-it feel.
Of course, even voice acting wouldn't have concealed the weaknesses in the script. Your own character never contributes anything, leaving all commentary to Marcy (and occasionally Abbot). Unfortunately, all too often looking at, say… a ladder prompts some heavy-hitting observations like: "A ladder." What would we do without you, Marcy?! It's not that anything is horribly wrong with the dialogue, just that it's guilty of the same kind of bland, uninspired quality as so many of the other elements.
The stories themselves are reasonably interesting but never particularly deep. They're also wildly erratic. Some queries along the way seem particularly demanding of proof over conjecture, but then entire cases commit the cardinal sin of overlooking trivial details like murder weapon or motive, or in fact anything at all besides the flimsiest of circumstantial evidence or suspicious testimony. Luckily, the guilty parties all bend over backwards to cooperate, conveniently copping to the whole thing in your absence. Even more frustrating is that each confession reveals a backstory that is infinitely more engaging than anything in the game, and discovering those secrets would have been a far more worthwhile adventure. But no.
Because the cases are fairly lightweight, none should take you much longer than an hour, and some even less. They can only be played in progressive order, but you can replay any case you've already completed at any time. There's really no reason to do so, however, apart from trying for a higher score, and even that serves no tangible benefit. Without that, the short length only serves to underline the unfortunate lack of substance that prevents Unsolved Crimes from being anything more than a largely forgettable adventure.
Having now solved all the Unsolved Crimes, I can think of a much better adjective to describe them: underwhelming. More test than game, the experience isn't a write-off by any means, but it simply never rises above its limited reach, and at times even fumbles those things within its grasp. What goes around comes around, of course, and as the game was so determined to rank me on my performance, now I do the same in return with a mere two stars. Fans of CSI-type games may find it makes the grade, but for everyone else, there's just not enough here to warrant much of a look.
Our Verdict:
A test of both observation and resolve, Unsolved Crimes is an underwhelming detective mystery that most players will want to pass up.
GAME INFO
Unsolved Crimes is an adventure game by

Now Productions

released in 20082008 for DS. It has a style and is played in a perspective.


Want to share your own thoughts about this game? Share your personal score, or better yet, leave your own review!

review
Other articles you might enjoy