The Whispered World first look
archived preview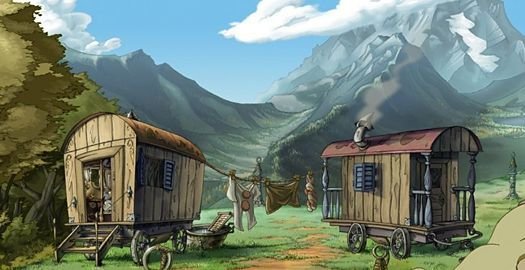 While the first original adventure announced from Daedalic Entertainment is, in every respect, A New Beginning, the company's second project already has a long history. The Whispered World started out as graphic artist Marco Hüllen's graduation project, before it was later taken up by Bad Brain Entertainment, the self-styled publisher/developer that in the end was never meant to be. When BBE went out of business, the game was discontinued and offered to the community to continue as (and only as) a freeware adventure. But that clearly didn't work either, as the project seemed practically dead until a trailer [in German] showed up on YouTube in April 2007.
The big surprise came just before the Games Convention: Daedalic Entertainment had acquired the material related to The Whispered World from Bad Brain founder Wolfgang Kierdorf and wasted no time in hiring the originator Marco Hüllen as well. And so the former graduation project became Daedalic's second in-house project. In fact, it may well become the first, as the release is planned at the end of 2008.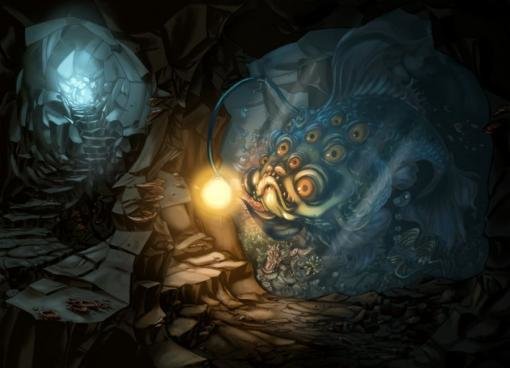 Marco Hüllen wasn't willing to reveal just what this monster is.
During our recent visit to Daedalic's office, the main thing [Public Relations Manager] Claas Paletta wanted us to know was that "We will make The Whispered World bigger, better, more beautiful and more serious than it would have been with Bad Brain Entertainment."
That's easy enough to say, but there are also facts to support it. Take for example, "bigger": Bad Brain had planned to use 10-20 backgrounds for the whole game, which would have made it a very small Whispered World. Daedalic thinks bigger in this regard, as some 60 scenes are planned at the moment. Thus, the change of developers has multiplied the game's size substantially. Accordingly, the story has also been completely redone.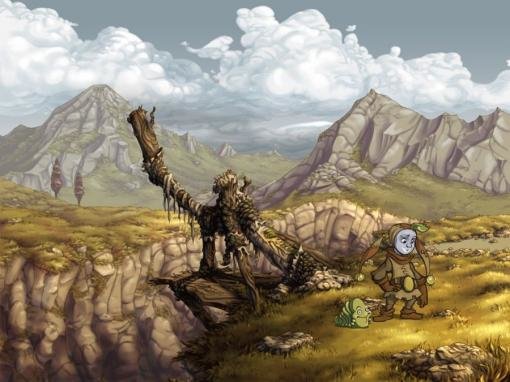 Example of The Whispered World's beautiful backgrounds.
The Whispered World is set in a fantasy world. In a dream, a blue figure tells young Sadwick that the world is going down and only he can save it. And so he sets out on a journey that will take him through the autumn forest, to an island, and to various other places. As the game progresses, the impending end of the world becomes increasingly visible. Amongst the things he encounters along the way are the "knowledge robbers", who travel the world stealing knowledge. We do not know just what other adventures Sadwick will experience on his journey at this point.
Unfortunately, we didn't get to play The Whispered World for ourselves. Bad Brain did have a demo at some point, but the new developer is redoing everything in its in-house engine. However, we did get to see the graphics, which were ever the main selling point of the game. Marco Hüllen's backgrounds are so lovingly detailed they can effortlessly compete with games like Runaway and So Blonde.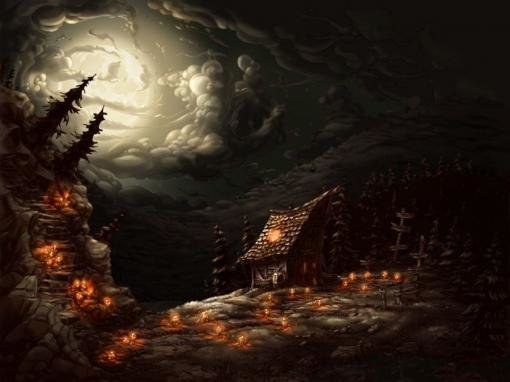 The moon lights a night scene in The Whispered World: Concept sketch and final image.
Two techniques help liven these pretty scenes up a bit. Like in A New Beginning, overly wide backgrounds sidescroll on a lot of different levels, giving a stunning sense of depth even to 2D images. For smaller non-scrolling backgrounds, a greater focus on animations is used instead. Here too the first samples look very compelling, and effects like water reflections are a nice added touch.
The Whispered World's hero, Sadwick, originally looked very childlike and had an intensely colored clown's costume. He has since been completely redone to make the game appeal to a wider audience. He doesn't look quite as childlike now, and his costume is a bit more adult and has a more earthy color scheme to it. The story is also more sophisticated now, so adults shouldn't be afraid they're getting a kiddy game.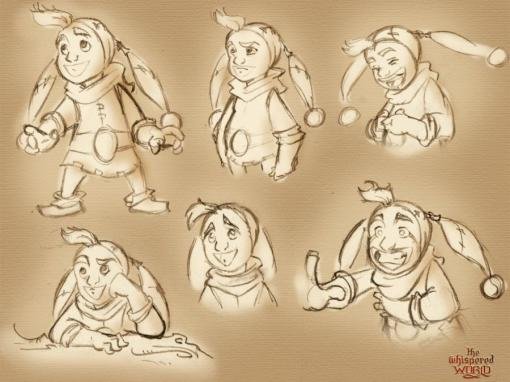 The new Sadwick looks a bit more grown up than his predecessor.
Since we didn't actually get to play The Whispered World, it's too early to predict a hit just yet. But our first look suggests, at the very least, that Marco Hüllen's former graduation project will be an incredibly good-looking, melancholic, and highly playable fantasy adventure. And it might just be more than that before the end of the year.
This article was originally published on the German website Adventure-Treff. It has been translated and reprinted here with permission. Translation provided by Harald Bastiaanse.
Referenced Adventure Games
archived preview
Other articles you might enjoy