Christmas Quest 3: Santa's Little Help Desk
Ha ha ha!! Hee hee hee!! Meeeeeeeerrrrrry Christmas!!!
I know, I know, you were probably expecting a "ho ho ho" to usher in these holiday greetings, but it seems that particular expression belongs to a jolly ol' round fellow who lives at the North Pole and delivers presents once a year. And while we think he'd gladly share for a similar cause such as ours, we're taking no chances this close to Christmas. You know how it is. We have enough coal.
Besides, in many ways the ha's and hee's are much more fitting for our very own brand of holiday gift giving. After all, Christmas at Adventure Gamers is all about the laughs! No parcels, no ribbons, no tags and no bows. No mall trips or store lines or parking lot woes. (Whoops, sorry, too much Dr. Seuss.) No, from us it's simply good old-fashioned fun... old, old, OLD-fashioned fun, and festive gaming cheer in the form of a brand new Christmas Quest!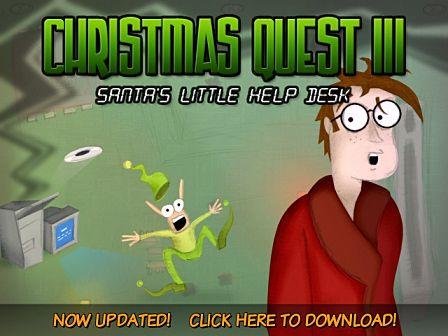 Surely by now the Christmas Quest series needs no introduction. Developed by none other than the AG staff and some very talented friends, the heartburn… err… heartwarming story of a young dork's holiday pursuit of the ultimate adventure began two winters ago with Christmas Quest: The Best Adventure Game Ever! Like any adventure without the good sense to provide closure, however, the open-ended finale of that game begged for a sequel. That demand was fulfilled with last year's Christmas Quest 2: The Yuletide Flows In, in which a stranded Christmas elf joins forces with our beloved hero to save the Best Adventure Game Ever from certain disaster. As those who have played both games will confirm, obviously we learned nothing from the cliffhanger fiasco of the first game, because we did the same thing all over again.
And so for Christmas 2007, we are pleased and exhausted to present you with the third and fina…well, the next Christmas Quest adventure. Will THIS be the year that all questions are finally answered? Hey, we're not telling. In fact, we may not even know! You'll just need to play for yourself. What we will say is that Christmas Quest 3: Santa's Little Help Desk serves up all new locations, all new puzzles, and a few new characters, plus all the same irreverent humour you've come to know and love in Christmas Quests past. And, of course, many of the same endearing flaws that we feel any game rushed to meet deadline should have. You know ALL the best games do that!
UPDATED December 28th! As promised in this space, we've kept working hard to enhance the version originally released for Christmas. Included are two entirely new puzzles and a few other various improvements. Alas, there are still a couple blemishes if you squint and look hard, a few features never quite realized. But this is it for Christmas Quest '07, and you'll love it more because of its flaws! At least, that's what we want you to believe. Besides, we had to leave ourselves something for the super-deluxe Director's Cut triple-pack somewhere down the line. So whether you held off originally or just want to see what you've missed, now's the time to download and enjoy! We thank you for your patience.
If you've yet to play a Christmas Quest adventure, I have just two words for you: point-and-click! Or maybe that's three. Either way, it's that simple. Just point that cursor over the links provided above, and click to download a TRIPLE dose of holiday shenanigans.
Whether playing one game or all three, we hope you enjoy our gaming gift to you. Regardless of what else is under your tree this year, may your Christmas Quest help make your holiday an enjoyable and fun-filled adventure.
Referenced Adventure Games
feature
Other articles you might enjoy