Christmas Quest 1 and 2 re-release
It's that time of year again!
I know, I know, with all the crass commercialism, the stress, the crowds, and mile-long shopping lines, it's easy to be a humbug when December rolls around. But that's were we come in. If you can count on nothing else… if you have no other star to guide you this holiday season… you can trust Adventure Gamers to remind you what the spirit of Christmas is all about.
It's about adventure! In fact, it's specifically about the zany mis-adventures of a dork and his elf on a mission to play the best adventure game ever. If this comes as breaking news to you, you've clearly never experienced the gaming goodness that is Christmas Quest.
Released two years ago, the original Christmas Quest: The Best Adventure Game Ever! was a watershed moment in the annals of gaming history. Or at least the annals of our website. Which is really rather remarkable, since none of us know what an annal is, let alone a watershed or why it deserves its own moment. But I digress... Yes, the first title ever developed by the staff of Adventure Gamers (and friends) not only turned Christmas on its head, but forever changed the landscape of the adventure genre as we knew it. Hopefully for the better, although possibly not.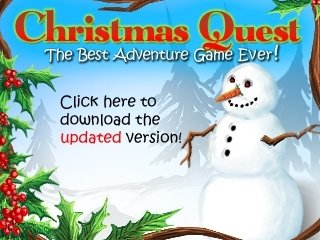 Humbled and overwhelmed by the flood of praise and gratitude (thanks, mom!), we were motivated to follow up our debut effort with an all-new backbrea…. I mean, groundbreaking sequel a year later. No less than DOUBLE the fun of the first game (I'm assuming that's what the "2" refers to), Christmas Quest 2: The Yuletide Flows In continued the now-apparently-ongoing saga to play the best adventure game ever.
And now, with the Christmas season upon us once more, we are pleased to make these timeless (or hopelessly retro, if you will) classics available once again. If you've played them before, play 'em again! Admit it, you've seen The Grinch and Christmas Vacation at least six times each, and the Christmas Quest games are way more… well, more of a game than those! And if you've never played either adventure, now's the time!
But hey, enough hyperbole from me. Let's hear what others have had to say about the Christmas Quest games.
---
"BLEEPING worth every BLEEPING penny I BLEEPING spent on the BLEEPING games!"
Little Timmy Two-Teeth, of Sam & Max fame. (And he'd BLEEPING know a good Christmas game when he BLEEPING sees one!)
"Easily the greatest thing to happen to winter since yellow snow."
"Anonymous", from Podunk. (Pretty much says it all, doesn't it? And if you can win over a Podunkian, you KNOW you've arrived. Though we're surprised they actually have snow there.)
"I'm stuck."
Martin Ganteföhr, Creative Director of House of Tales. (And thus, on behalf of adventure fans everywhere, revenge is served for the dastardly endgame puzzle in Moment of Silence.)
"Five-and-a-half stars! This game is pure genius!"
Adventure Gamers' completely neutral and unbiased review. (And you know THEY wouldn't lie, not in this day and age of dogged editorial scrutiny!)
---
So there you have it. Four whole people couldn't be wrong! Enough dilly-dallying, then. Click those download links above, and have yourself a very merry Christmas Quest.
Referenced Adventure Games
feature
Other articles you might enjoy