Adventure game holiday shopping guide
Do you hear that rumbling noise in the distance? It's the sound of the avalanche of new games coming this Christmas. The large number of fourth quarter releases is not exactly surprising, since games make for great holiday gifts. Besides, it's dark in the northern hemisphere, which means many people are spending time cozying up in front of their computers to immerse themselves in other worlds.
What are adventure games?
Perhaps you randomly stumbled upon this site looking for tips on what games to buy this Christmas. Well, you're in the right place (welcome!). This guide is specialized in a specific genre called adventure games. These types of games are generally all about exploration and investigation, and rarely include action or complex game controls. That makes them suitable for both frequent and casual gamers. Adventure games allow you to play as a detective, explorer, attorney, ghosthunter, historical figure, and much more. Have a look at the games and links on this page for a better idea of the playing experiences that adventure games offer.
You might be looking to get some adventure games this holiday season, either for yourself or as a gift. But with so many adventure games available, it can be pretty hard to make choices. Fortunately, we have put together this guide with recommendations for PC, Wii and Nintendo DS titles, both old and new.
Do you have a friend or family member who still thinks games are only about shooting things? Then this is your chance to show them how they can be so much more. Better yet, there are adventure games for all ages -- even the little ones (Freddi Fish) or the slightly older ones (Nancy Drew) -- so there are plenty of gift ideas to consider. Perhaps someone in your family is already the adventure gaming fanatic, and you want to know what to get him or her. In that case, you have also come to the right place!
For in-depth evaluations of the games, be sure to check out our reviews. Where available we've also included the review scores here, so that you can conveniently check each game at a glance. Below each item in the list are direct links to online retailers, auction and download sites. (Most of these are affiliate links, meaning Adventure Gamers gets an affiliate commission when you make a purchase. So you could say that everything you buy is a gift that keeps on giving!)
New Releases (PC)
You have heard endless talk about these games, endured hours of anticipation for their release, and now maybe you will be rewarded with your very own copy on Christmas morning!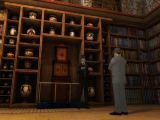 In the fourth Sherlock Holmes adventure, the famous detective is ready to challenge Arsène Lupin, the gentleman thief, invented by French writer Maurice Leblanc, and whose exploits have thrilled millions of readers worldwide. Sherlock Holmes vs. Arsène Lupin is so new that it won't even be in stores yet until 2008, but you can already get it now through the Adventure Shop download service.
Where to buy: Adventure Shop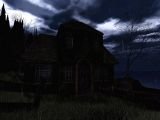 In this horror adventure inspired by H.P. Lovecraft, you play as police detective Howard E. Loreid, tasked to solve the murder of a wealthy man involved in the occult, even as you cling to sanity through your own lucid dreams. The game has a built-in hint system with three difficulty levels, allowing you can play Standard, Detective, or Senior Detective modes.
Where to buy: Adventure Shop, Amazon UK, Amazon US, eBay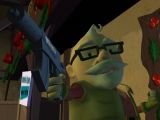 In what is probably the first commercial Christmas special in a game series, comedy detective duo Sam & Max travel to the North Pole in order to deal with a gun-toting, demon-possessed Santa. The Sam & Max games are released like a TV show, with each episode in a season providing a few hours of gameplay. You can buy the Ice Station Santa episode individually, or buy a season two subscription that also entitles you to four more episodes coming in 2008.
Our review:
"It's laugh-out-loud funny, with very intelligent puzzle design and a totally demented self-contained story which interjects demonic possession into a sacred holiday. An absolute must-play."
Where to buy: the Telltale Games online store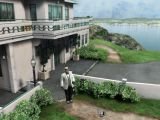 Based on the popular novel by the Queen of Crime, you play as world-renowned Belgian detective Hercule Poirot. This latest installment in the Agatha Christie series uses an unusual narrative device, whereby the entire plot is unveiled as a recounting of events after the fact. In addition, the original story has been adapted so that even if you've read the book, you don't know for sure what's going to happen.
Where to buy: Amazon UK, Amazon US, eBay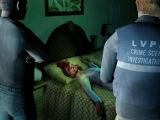 Don't just watch the series, but get involved in the investigations yourself! In CSI: Hard Evidence you will join Gil Grissom, Catherine Willows and the rest of the Las Vegas cast to help solve crimes using realistic techniques and lab equipment. While hardcore adventure gamers may find it too easy and simple to play, it might just have the right difficulty level for fans of the series.
Our review:
"If you liked the previous titles, this is more of the same. But don't expect to see a big jump in quality; despite its subtitle, this game isn't very hard."
Where to buy: Amazon UK, Amazon US, eBay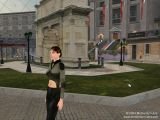 Culpa Innata is the kind of adventure game that tries to go deeper than most. The narrative is fairly non-linear, and the passing of time is simulated in the game, so some actions may only be available at night or during the day. This ambitious futuristic thriller doesn't shy away from complexities, and so it's probably the more experienced adventure gamers that will most enjoy it.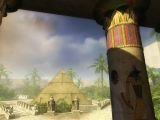 In this historical adventure game from the creators of Return to Mysterious Island and Destination: Treasure Island, you are plunged into a tormented period of ancient Egypt. You play as Thomas the Chaldean, an astronomer, who has to search for two mysteriously missing persons. This fresh title is not yet available in stores, but can already be downloaded at Adventure Shop.
Our review:
"If you're in the mood for a light and unintimidating adventure to fill your ancient Egypt whim, give Cleopatra a whirl."
Where to buy: Adventure Shop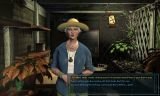 A great gift choice for teenage girls! It's the 17th Nancy Drew game, no less, and the developer's experience with the series really shows in the latest mystery.
Our review:
"Legend of the Crystal Skull is arguably the best game in the series, now that its character design finally lives up to quality of the writing and voice work. If you have never played a Nancy Drew adventure before, start here."
Where to buy: Amazon UK, Amazon US, eBay
Turn the page for DS adventure games, Nintendo Wii adventure games, and more PC adventure game recommendations!
Nintendo DS adventure games
The Nintendo DS handheld system has quickly become very popular for playing adventure games. According to a recent survey, almost a third of AG's visitors already play adventures on the Nintendo DS. If you are not one of them, this is your chance to jump in. If you already own the system, here's some suggestions for expanding your DS game collection.
Nintendo DS Lite
It's the device you need to play touchscreen-enabled DS games. It includes two styluses, microphone, wireless connectivity and more. Not only can you play many adventure games on this system, it is also the home to such popular titles as The Legend of Zelda: Phantom Hourglass and Brain Training.
Where to buy: Amazon UK, Amazon US, eBay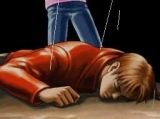 There are people who bought a Nintendo DS just to play Phoenix Wright. We know this, because we were among them. The Phoenix Wright series casts you as an attorney, but don't expect court cases to be dry and boring. Phoenix Wright is part comedy, giving a larger-than-life quality to the courtroom proceedings. Trials and Tribulations is the latest installment in the highly successful series, and the last game before the new character Apollo Justice takes over from Phoenix.
Our review:
"Trials and Tribulations is the high point of the series, wrapping together great storylines, dialogue and characters into one portable package. Buy it now before I make use of Franziska's whip."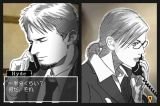 In this noir detective game you play Kyle Hyde, an ex-cop turned salesman trying to track down a missing friend. The game is presented largely through hand-made sketch animation (think A-Ha's "Take on Me" music video from the '80s), which is a welcome diversion from the 3D rendering that's become commonplace in game graphics.
Our review:
"Hotel Dusk is another good DS release from Cing. The game is entertaining, and a worthwhile purchase for any DS owner who enjoys a lot of story in their games and doesn't mind the occasional lame puzzle."
Where to buy: Amazon UK, Amazon US, eBay
More Nintendo DS recommendations
Nintendo Wii adventure games
The Nintendo Wii is the first-ever console with an easy-to-use pointer device, making it a perfect platform for adventure games. It's taking a while for developers to get going with the new system, but a whole fleet of Wii adventures is expected to arrive in the months and years to come. The first one has just been released, making this the perfect time to start gaming on the Wii.
Nintendo Wii
The hit game console that took the industry by surprise. Now in greater stock than last year (when it was nearly impossible to find) and with a bigger library of available titles.
Where to buy: Amazon UK, Amazon US, eBay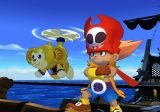 It's the first adventure game for Nintendo Wii, and a bit of an odd beast at that. Hardcore followers of the genre might wonder if it's a "pure" adventure game, since it looks a bit like a platformer and the box makes reference to bosses, but rest assured it's not a game that involves any combat. Inspired by classic adventure games but with a unique twist, Zack & Wiki offers puzzle-based challenges that have to be solved by using the Wii remote in many different ways. Some early reviews are even calling it the "first true Wii game".
Past Releases (PC)
We already listed some of the newest titles from recent months on page one, but many more recommended games were released well before that. If you missed these games when they first came out, be sure to give them a look.
Were you a fan of games by LucasArts back in the day? Then you owe yourself to try the new Sam & Max by Telltale Games. Even if you have never heard of Sam & Max, all you need to know is that these characters are hilarious and absurd. If you are looking for a good laugh while also solving unusual (but logical) puzzles, then Sam & Max is your best bet.
Our review:
"Characters as adored as Sam & Max are easy to mess up—making it all the more impressive that in both technical and creative aspects, Telltale got Sam & Max right, and the result is a delightful series of short games that could potentially have become one great lengthy game."
Where to buy: Amazon UK, Amazon US, eBay, the official Telltale store
This criminal investigation game has parallel stories in which you try to hunt down a murderer in both the 1920s Prague and modern day Chicago. If you like Jack the Ripper or Se7en, Still Life is just the game for you.
Our review:
"Still Life tells a story that is a masterful blend of challenge, characters and story."
Where to buy: Adventure Shop, Amazon UK, Amazon US, eBay
A pseudo-sequel to the renowned adventure story by R.L. Stevenson, Destination: Treasure Island has you setting out as an older Jim Hawkins, once more in search of treasure. Expect sensible puzzles and an adventurous story. From the creators of Return to Mysterious Island.
Our review:
"While it's a little short, Destination: Treasure Island is a game that anyone who loves a little adventure in their lives should have in their collection."
Where to buy: Adventure Shop, Amazon US
Myst IV continued the tradition of beautiful landscapes and surreal worlds to be explored. It is considered by many to be slightly superior to the final Myst game, Myst V: End of Ages, but both are of high quality. Today you can get all Myst games in a convenient bundle.
Our review:
"A fateful return of a venerable series proves it still has legs even 10 odd years on."
Where to buy: Amazon UK, Amazon US, eBay
Other recommended releases
| | | |
| --- | --- | --- |
| Syberia | | Adventure Shop, Amazon UK, Amazon US, eBay |
| Syberia II | | Adventure Shop, Amazon UK, Amazon US, eBay |
| [game=1241]Fahrenheit (Indigo Prophecy)[/game] | | Amazon UK, Amazon US, eBay |
| The Secret of Atlantis | | Adventure Shop, Amazon UK, Amazon US, eBay |
| The Secrets of Da Vinci | | Adventure Shop, Amazon UK, Amazon US, eBay |
| Dreamfall: The Longest Journey | | Amazon UK, Amazon US, eBay |
| Barrow Hill | | Amazon UK, Amazon US, eBay |
| Scratches | | Amazon UK, Amazon US, eBay |
| Bone: Out from Boneville | | Amazon UK, eBay |
| Undercover: Operation Wintersun | | Adventure Shop (North America only), Amazon UK, Amazon US, eBay |
| Broken Sword 4 | | Amazon UK, Amazon US, eBay |
| EVIDENCE: The Last Ritual | | Amazon US, eBay |
| Secret Files: Tunguska | | Amazon UK, Amazon US, eBay |
| Sherlock Holmes: The Awakened | | Adventure Shop, Amazon UK, Amazon US, eBay |
| Agatha Christie: Murder on the Orient Express | | Amazon UK, Amazon US, eBay |
Turn the page for indie adventures, bargains and games in other genres that you might also enjoy!
Indies and lesser known games
Sometimes you have got to look a bit further to find certain games. These adventure games are a bit less known, or simply haven't had a large international release, but are well worth looking at.
Bargains
Need your adventure gaming fix on a tight budget? These bargains should help you out.
| | | |
| --- | --- | --- |
| Broken Sword 1 | | Amazon UK, Amazon US, eBay |
| Grim Fandango | | Amazon UK, Amazon US, eBay |
| The Moment of Silence | | Amazon UK, Amazon US, eBay |
| Gabriel Knight 3 | | Amazon UK, Amazon US, eBay |
| Jules Verne: Journey to the Moon ("Voyage" in North America) | | Amazon UK, Amazon US, eBay |
| Runaway 1 | | Adventure Shop, Amazon UK, Amazon US, eBay |
Non-adventure games
Adventure games are great, but what if you want to add a little variety to your gaming diet? The following titles have been selected from other genres based on their potential appeal to adventure gamers. Beware though: most of them involve a lot of action, so skip these suggestions if that isn't your thing!
BioShock

An RPG/shooter set in a dystopian underwater society. The art deco architecture and '60s-style propaganda posters make this world a joy to explore.

Amazon UK, Amazon US, eBay

Mass Effect

Xbox 360 roleplaying game from BioWare. The extremely high-quality cinematic dialog sequences should be of great interest to adventure gamers.

Amazon UK, Amazon US, eBay

Portal

A physics-based puzzle game with a surprisingly compelling and hilarious story. Get it as part of The Orange Box, or buy separately on Steam.

Amazon UK, Amazon US, eBay, Steam

The Elder Scrolls IV: Oblivion

Expect a huge open-ended playing area rendered in gorgeous detail. Non-player characters eat, sleep, and complete goals all on their own, giving a great sense of realism. Highly recommended for those who enjoy story and exploration.

Amazon UK, Amazon US, eBay

Assassin's Creed

While suffering a little from being overhyped, this Xbox 360 game still delivers a densely populated and lively game world. Be warned though, it is heavy on combat and acrobatics.

Amazon UK, Amazon US, eBay

Puzzle Quest: Challenge of the Warlords

Imagine a 'match the colors' puzzle game mashed up with an RPG, and you have successfully imagined Puzzle Quest. Addictive combination of puzzling and stat-building. Available on DS, Wii, PS2, PSP and Xbox Live Arcade.

Amazon UK, Amazon US, eBay, Xbox LIVE Arcade

The Legend of Zelda: Phantom Hourglass

This Zelda game for the Nintendo DS is being touted as one of the most accessible and entertaining Zelda games yet.

Amazon UK, Amazon US, eBay
We hope this guide was helpful and we wish you happy holidays!

feature
Other articles you might enjoy