Nancy Drew 2006
archived preview
Don't look now, but the Nancy Drew adventure game catalogue is fast catching up on one of the most prolific book series of all time. Well, okay, maybe that mark is still a ways off yet, but 2006 will see the release of the 14th and 15th games in the popular girl detective franchise. That's quite the accomplishment considering Her Interactive couldn't even find a publisher for the debut title, Secrets Can Kill, back in 1998. But eight years later, the Washington-based developer is still going strong, and we were able to visit with CEO Megan Gaiser and Marketing Director Amy McPoland at E3 to discuss the two upcoming Nancy games.
First up for Nancy is a trip to Paris and the haute couture fashion world in this summer's Danger by Design. A famous fashion designer named Minette has fallen far behind in preparations for her upcoming show, and a concerned investor asks Nancy to secretly investigate under the guise of a new intern. What Nancy discovers when she arrives in the renovated old windmill-turned-studio is an artist who has taken her eccentricity to extremes. Minette has become prone to bouts of uncontrolled hysterics, lashing out and even firing key employees, and wearing a white mask night and day. Someone is also sending her threatening mail, and it's up to Nancy to discover who's behind the mystery of Minette's destructive behaviour.
Of course there's a cast of colourful characters for Nancy to interact with, and in Danger by Design, "characters" looks to be the right word for them. From Jean-Michel Traquenard, the conceited fashion reviewer, to Jing-Jing Ling, the contract model unwillingly forced to work for Minette, to Dieter von Schwesterkrank, a former flame obsessively seeking lost treasure, there is no shortage of flamboyant personalities, and as usual for Nancy Drew, it seems everyone has a motive for wanting Minette to fail.
Along with snooping out suspects, Nancy will also have to maintain her cover as an intern, and Minette proves to be a most demanding boss. Luckily for players, that means plenty of activities, and Danger by Design looks to have a nice variety of puzzles and minigames. Nancy will have to go shopping for vaguely-clued items, make parfaits, and even do some fashion design of her own that must meet very specific criteria. She'll also need to earn money by recreating paintings (thankfully, no natural talent is required) for a local park vendor, while her investigation will require such things as developing film and exploring underground catacombs… Sorry, make that underwater catacombs, as Nancy will need to do some swimming, and as she can't hold her breath forever, you'll have just a limited amount of time to lead her through the maze. That's right, there is the occasional timed sequence in the game, but Nancy veterans have come to expect that by now. Perhaps the most memorable task of all is catching loose cockroaches scurrying about the studio. They're elusive little buggers, and you'll need to be keen-eyed and quick-fingered to capture them all.
Meanwhile, Minette's converted moulin conceals some secrets of its own. During WWII, a codebreaker in the French resistance saved precious museum relics from destruction and hid them somewhere in the building. Unfortunately, she fell in love with a German officer and was accused of treason, so she was never able to tell anyone openly about the priceless artifacts. However, she left a trail of clues and puzzles that will ultimately reveal the secret location for just the right sleuth to discover. Below are some new screenshots related to the historical treasure hunt in Danger by Design.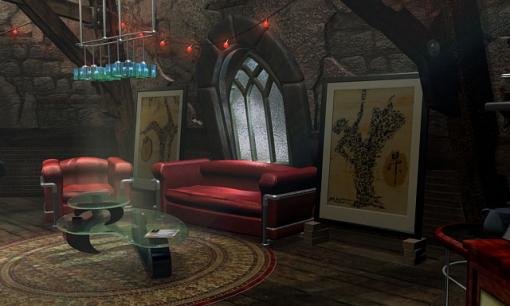 Almost everything else about the game is classic Nancy Drew, so those with any experience at all with the series will feel right at home immediately. The game's look and sound are consistent with the rest of the games, including Nancy once again being voiced by Lani Minella. The first-person, node-based, point and click interface is a breeze, and all the tried and true features from previous games have returned, including the Junior and Senior Detective difficulty settings, phone tips from Bess and George, and the handy "second chance" option for when you inevitably get Nancy fired or even killed.
Much the same can also be said for the second Nancy Drew release due later this year. We didn't have the opportunity to see The Creature of Kapu Cave in action, but we did get the lowdown on what Nancy will be up to in the next game, as she says au revoir to France and aloha to Hawaii.
Perhaps inspired by her successful roach escapades in Danger by Design, Nancy takes off for tropical climes to serve as a research assistant to Dr. Quigley Kim, an entomologist studying the phenomenal increase in caterpillars and an invasion of beetles that's rapidly threatening the island's ecology. When she arrives at Camp Quigley, however, Nancy discovers a monster destroying the site, and there's no sign of the scientist, so she's on her own to sort out her latest mystery. At least, she's on her own until she runs into a pair of very familiar faces on the island for their own reasons.
The Hardy Boys debuted in Her Interactive's Nancy Drew games with last year's Last Train to Blue Moon Canyon. In that game, the two sleuths served mostly as passive support for Nancy, offering helpful suggestions while Nancy continued to do the leg work. In Kapu Cave, the boys return, but this time they are much more involved, and players will have the chance to control both Frank and Joe in significant roles throughout the game.
The trio's adventure revolves around the ancient legend of Kane 'Okala (whose curse regrettably extends to our ability to properly display Hawaiian accents). According to local folklore, a man was once sacrificed to the nearby volcano, but he somehow returned, horribly scarred and earning the name that translates to "the rough-skinned man". Seeking vengeance, he spread pestilence and destruction wherever he went, much like the circumstances afflicting the island today. His described appearance closely resembles the monster Nancy saw at Camp Quigley, and he has been associated with the mysterious Hilihili research compound, a place the natives believe is plagued by evil. So what's the connection between the missing scientist, the research facility, Kane 'Okala, and the island's alarming insect problem? That's up to players to find out, and the answers may just lie in the Kapu (forbidden) Cave, hidden and protected behind the totems and caterpillar webs that guard the cave's entrance.
Along the way, Nancy will engage in many interesting native activities, like serving up various flavours of shaved ice and shore fishing for ulua fish. She'll also learn to make shell necklaces, but for the best shells, she'll need to acquire snorkeling gear and then navigate through a dangerous coral gauntlet. And of course she'll have plenty of detective challenges as well, including deciphering Hawaiian symbols, and using her spiffy SUV's Global Positioning System (GPS) to explore new locations. Players will get to experience several distinct environments, including the beach, a rainforest, some ancient Polynesian ruins, and of course the lava tunnels of the Kapu Cave volcano itself.
This time around, the supporting cast includes the Mapu family, who run the Big Island Mike Immersion Excursion. We'll get to meet Big Island Mike himself, as well as his teenage daughter Pua, an up-and-coming surfing sensation. Meanwhile, over at the research center, we'll meet up with Malachi Craven, whom the locals believe has revived Kane 'Okala and brought about the current crisis.
After thirteen games, there may be some people hoping the series will take a bold step forward from its original design. Danger by Design and The Creature of Kapu Cave are not those games. But it's hard to argue with success, and Her Interactive has found a formula that works well. For the many fans of the Nancy Drew series, the two new offerings look to bring more of the same gaming goodness they've come to appreciate in the series.
Danger by Design is available for preorder at the Her Interactive website, where you can also view the game's trailer and download a demo to try it for yourself. Preorders are due to begin shipping next week, while the game will be available through regular retailers in early August. The Creature of Kapu Cave is scheduled for release this October.
Referenced Adventure Games
archived preview
Other articles you might enjoy