Bone creator Jeff Smith
interview
Bone has become a hot topic among adventure fans recently thanks to Telltale's games, but long before the PC adventures came the comic series by award-winning cartoonist Jeff Smith. From 1991 to 2004, the self-published story about three Bone cousins cast out of their hometown into a strange and unfamiliar world would eventually become an epic saga spanning 1300 pages over 55 issues.
With the release of The Great Cow Race casting the spotlight back on Bone this week, Adventure Gamers has gone back to the original source for a few words with the man who made it all possible.
---
Hi, Jeff. Thanks so much taking the time to answer some of our questions. I promised myself I'd behave, but it turns out I can't resist, so let me start by asking what is probably the unforgivable question: what exactly is a 'Bone'?
They are little cartoony people that I made up when I was young. So young that I didn't realize cartoon characters were supposed to be an animal of some sort, like a mouse or a rabbit. They are pure cartoon characters, and since they are white and somewhat bone-shaped, I called them Bones.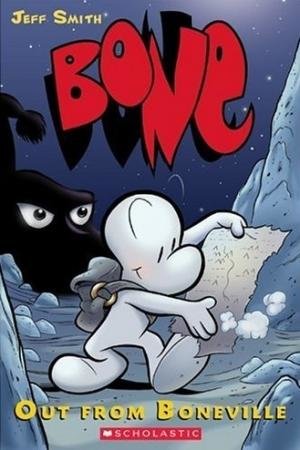 Hard as it is to imagine, not all of our readers are familiar with all-things-Bone, so maybe you could give us just a brief history of your creation -- when you started, where it appeared, and a bit about its success over the years.
For years, the Bones appeared in my self-published comic book every other month, and then slowly their adventures became collected in paperback books (what we call graphic novels, now). And starting last year, Harry Potter's publisher, Scholastic, has been releasing color versions of the books.
What made you choose the independent publishing route? Was it something that you'd decided from the beginning, or was necessity the mother of invention, so to speak?
It was necessary. I'd tried to sell the feature to comic strip syndicates for years without success, so when it came to comic books, I figured if I wanted to draw it, I'd have to publish it!
Had you envisioned such an epic tale when you first began publishing the comics, or was the story something that grew and developed as you went along?
It grew like crazy, but the overall plan was sketched out from the beginning. I knew how it was going to end before I drew a single page.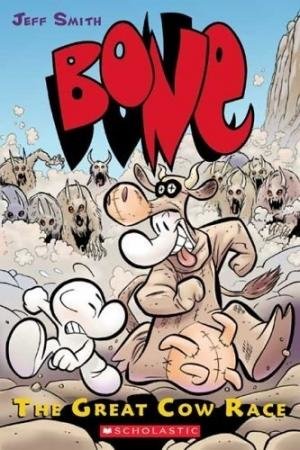 Your comic has sold over a million copies since you began. Did you ever imagine that kind of success? And at what point did you realize, "Hey, this is going to work!"
It has done amazingly well. We sold over a million books ourselves (Cartoon Books and our foreign partners) in black & white. Now, Scholastic has sold nearly a million of the first three color books on their own! I think I knew it would be okay when I read an interview with Simpsons creator Matt Groening and he said he loved the books. That was very early on, and both [Jeff's wife] Vijaya and I are huge Simpsons fans. I still use that quote!
While the Bone characters were something you first came up with as a child, your comics aren't really (or at least, specifically) for kids, correct?
No, but there's nothing in them kids shouldn't see.
Have there been any artists over the years that have influenced your development as a writer and cartoonist? (I probably shouldn't separate those.)
You're right, you shouldn't separate those. My favorite cartoonists are the ones who write and draw their own stories. My favorites as a kid were Walt Kelly (Pogo) and Carl Barks (Uncle Scrooge), but I grew to love George Herriman (Krazy Kat) and E.C. Segar (Popeye). Frank Miller is a very cinematic story teller and his comics led me into the field. I see a lot of Paul Pope touches in my work, and lately, I've been influenced by Chester Brown's Louis Riel. The hands he draws are thick and Harold Gray-like (Little Orphan Annie). Very cool.
So the games... how did the agreement with Telltale to turn Bone into a series of games come about?
That's really Telltale's story. They formed a small, independent company dedicated to story and character driven games. I guess all the good properties were spoken for, so they called me. I'm very impressed with their commitment to a new kind of game -- one that is affordable, episodic, and frequent.
Having a comic converted to a "live" medium is a fairly bold move. Were you a hard sell? Was it tough to turn over your creation to others?
No. For one thing, Telltale's founders and staff are all very cool. If you've met them, you know what I mean. And they all like Bone, that was clear from the get go, so if anything, I had to tell them to relax a little for the second game, and not worry if the story strayed from the books. And the new game really shows their strengths; it feels more like the puzzle universe in one of their old [LucasArts] games. But for only twelve bucks!
I know you offered your input into the creation of the games. Were you fairly hands-on in the process, or just consulting as necessary?
I okayed the models and the voices, but the games are really their babies. I just play them.
Of course I have to ask, how pleased are you with the results?
Very. The games are funny and charming little visits to the world of Bone! I'm especially pleased with Phoney Bone. I like his voice, and his attitude!
What's been the general response from longtime followers of your comics? Any complaints from the diehards?
Not one. I've heard more complaints from gamers than anything, but they were usually comparing the Bone game with multi-million dollar games from big companies, that were in development for years. Games they pay $40 or $50.
Is there anything you wished had been done differently after hearing player feedback from the first game?
What I picked up is that players wanted more interaction with the world; wanted the game to last longer and cost less. Telltale responded in spades!
I understand there were some gags in The Great Cow Race that were made, then removed, and then added back in after you lobbied to have included. Care to tell us the story behind that?
Oh! Yes, at the eleventh hour, I lobbied for the inclusion of two very cartoony gags: Fone Bone's huge bicep and Phoney Bone's jaw drop. Apparently, Tex Avery type stretchy gags are the hardest to pull off in CG, but if you are going to animate Bone, you gotta have the two most animated gags!
So what else are you involved in these days?
I'm working on a mini series for DC Comics, and visiting library and teacher conferences promoting graphic novels. I'm heading for the IRA (International Reading Association) next week in fact!
Jeff, your Bone series is terrific, and we couldn't be happier to see it getting the attention it deserves. Thank you so much for sharing your thoughts with us.
For more information about Bone, be sure to check out Boneville, the official Bone website. You can also find a video interview with Jeff Smith at the Telltale Games website.