Adventure Gamers is pleased to exclusively offer the demo of Unnamed Project Joe, a comedy adventure game featuring lush 2D graphics.
The project is currently on hold until publisher discussions can resume, but that hasn't stopped European developer Synthetix Interactive from releasing a large and fully-featured demo of the game. The ever-tentatively titled Project Joe follows the life of--you guessed it--Joe, a bar owner whose bar has come under threat from the local mafia. The demo includes the first chapter of the game, which features about half a dozen locations.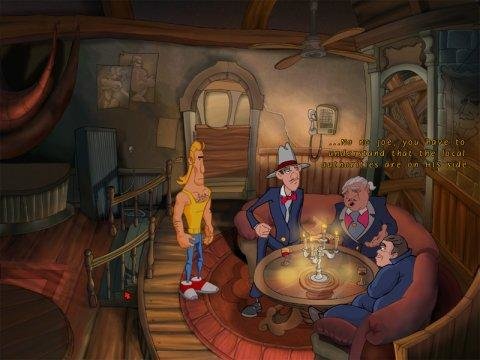 The demo file is 145 MB large. The system requirements are:
- 3D accelerated videocard, Nvidia TNT2 being an absolute minimum. A GeForce or Radeon card is strongly recommended.
- 256 MB of RAM (512 MB recommended)
- 200 MB of free disk space
- DirectX 8 or higher
Project Joe uses the Full Throttle interface; to interact with an object, hold the left mouse button and an interaction menu will pop up.
Click here to download the demo! Have fun, and thanks for reading Adventure Gamers!
(Should you experience any technical problems with the game, you can find a FAQ here.)
Referenced Adventure Games
feature
Other articles you might enjoy