Aura Designer Diary: Part 4
Hello friends. My name is Evgeniy Lebed, and I am one of the developers of Aura: Fate of the Ages. Sergey has asked me to write this final diary and express a few of my thoughts. First of all, I would like so say that it has been a wonderful experience working with Streko-Graphics to create this game. Even with Sergey strictly mandating that all the deadlines be met, everything from character design, dialog creation and even programming has been a blast.
Well, this is it! Our game goes Gold today (June 16th)! Finally we get to see our baby packaged and reproduced.
These last few months have been quite hectic; when a game is just about finished, this is when the hardest part begins – the testing and the debugging. The beta-testers have been doing a great job of loading us with all the bugs that they have found. We have been spending this time working hard on trying to reproduce these bugs and of course, the most important thing is fixing them.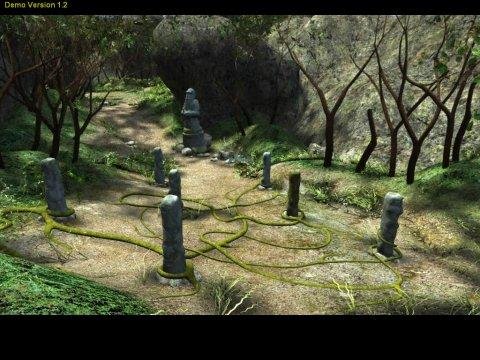 I was one of the lucky developers who got to go to E3, and I must say that it was a very interesting experience. We got to see all of the interesting new games that are about to release. But of course the most interesting part was actually watching people play Aura, and attempting to solve the puzzles that we created. From what I saw, people were quite intrigued with the style, the graphics and the whole game overall. In general, after the players finished the demo they were left with a desire to play more, and this is just the way we wanted it to turn out.
The questions that we received there were also, um, how should I say...amusing. It seemed as though people wanted to know absolutely everything right down from what engine we used to make the graphics on, to what has inspired us to make Aura. The technical questions were all easy questions to answer, but the latter, the philosophical ones; those were the ones that gave us some trouble.
Close to the ending of the game, one aspect that we were really racking our brains on was how to conclude the game in an effective way. Many discussions and debates went into this seemingly easy question. What we wanted to achieve was giving the player the satisfaction of completing the game and at the same time leave them wanting from more. I am pretty sure that we were able to achieve that, but I won't be able to say for sure until we get some responses from the players who have beat the game.
We hope you enjoy Aura! It will be available in North America on June 24th, so be sure to pick up your copy and then tell us what you think.
(Our thanks to Sergey Nartovich and Evgeniy Lebed for contributing these Designer Diaries for us!)
Referenced Adventure Games
feature
Other articles you might enjoy