Aura Designer Diary: Part 1
Greetings to all fans of adventure games! My name is Sergey Nartovich and I am President of Streko-Graphics. In the first part of the developer's diary I would like to tell you about our company and about our new game, Aura: Fate of the Ages.
The company was first organized on September 21, 2000 in Toronto, Canada by my brother Andrey and myself (although the name of the company was different back then). At first we only had three people on our team. In the beginning of 2001 we moved to Vancouver, and are still working from there. Today there are 14 people working at Streko-Graphics.
About a year ago, when completing our last game, we decided that it was time do choose what our next project is going to be. As our team consisted of people who were big fans of role-playing and adventure games, I have proposed to Andrey, the project leader, that the next game should be of that sort. Even before we formed the company, we wanted to make a game of this type. Unfortunately we weren't able to proceed as planned due to a lack of staff.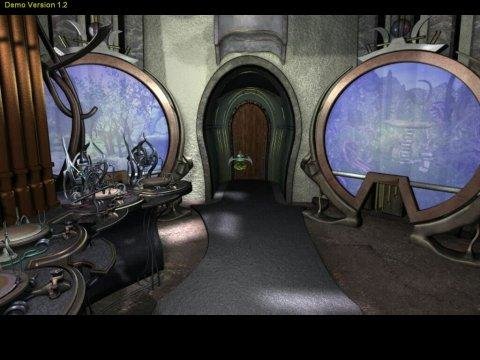 After many discussions, we decided that if we had an interesting enough plot for an adventure game, then that would be our next project. As at that time I was still working on the completion of our previous project, and so my brother and our Lead Artist-Developer, Volodya, began working on the new game. We did not want to create another standard walking-around type of game where you go from room to room solving puzzles, but to design a completely new world with our own rules--something completely different than the already existing ones.
And finally on March 8th, 2002, while we were sitting by candle light, listening to gothic music ("Stoa"), a new world called Aura was born, along with its main hero, Umang. At first, work was extremely slow, since we did not want to repeat what other companies had already done in the past. As such, we were forced to look at, and play a whole bunch of "similar" games that were done in the past. After we had wasted several pads of paper, drank all of the coffee in the office, and listened to all of our gothic CDs 10 times over, the plot of the game finally began to take shape. If anyone still had doubts about the success of our project at that point, they were wiped away after reading the first manuscripts of Aura. Right away there were heated debates about the image of our main hero, Umang, and the worlds he was supposed to visit. Seeing how our artists and developer, who already finished the previous game, were aimlessly wandering around the office, looking for something edible, we decided to begin creating our game immediately.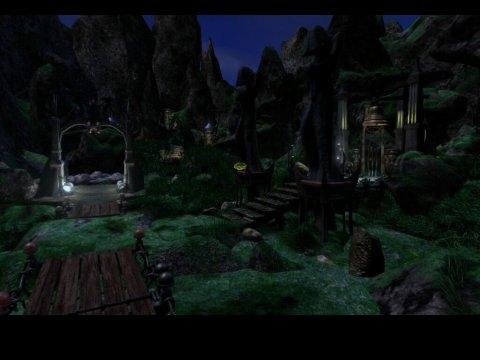 One problem was how to create several completely unique worlds, governed by their own unique rules and laws, and tie them together with one big mystery. There are three main worlds in the game: the Ademika valley, where lies the "key" to travel; the Mechanical World, and the Isotheric world. In the Mechanical World, everything is controlled by mechanical devises, and the laws of physics rule everything. The Isotheric world is completely the opposite; everything is ruled by black and white forms of magic.
One of the biggest concerns that I had at first was that I wasn't sure if our artists would be able to draw these worlds in such a way that really, and I mean really, got the unique feeling of every world across to the player. I am just glad that we have a team of such talented and devoted people devoted to the worlds of Aura. This feeling was greatly justified when I saw the first sketches of the worlds.
I hope that this got you interested in our project. Next time we will journey through one of the worlds.
(Thanks to The Adventure Company for letting us host this four-part diary. Tune in two weeks from now for the next installment!)
Referenced Adventure Games
feature
Other articles you might enjoy