Best Independent Adventure (retired)
Aggie Award Winners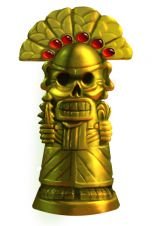 Some independent studios release their games with no external publisher backing or broad distribution channels (at least at first). These self-published titles rarely get the attention (or sales) they deserve, and the best of them merit a closer look from anyone who's overlooked them to date. This list does not include games developed internally by companies fully established as publishers, but does include games produced independently even if an online publisher helped with final distribution.
The Aggie award winners:
Readers Choice' Award winners:
Phoenix Online is an inspirational indie success story. The team worked diligently for many years (and through several heavy-handed cease-and-desist orders) on their King's Quest-inspired Silver Lining freeware series before turning their attention to their first commercial project. And what a fine job they did with their grisly paranormal murder mystery tale, as Cognition handily won our reader vote for top independent adventure of the year.
This Aggie isn't a "good FOR an indie" selection, but a "good BECAUSE it's an indie" award. With no one looking over their shoulders (or giving them any money), developers are free to make stylistic choices that best suit their vision, experiment with puzzles, controls, and even stories that publishers wouldn't dare touch. In 2012, this resulted in a bumper crop of diverse adventures, capped by Resonance's clever mix of retro aesthetic, multi-protagonist sci-fi storyline, and innovative new gameplay mechanics.
Some adventures are praised as good games "for an indie", like a consolation prize for something that can't compete with the heavy hitters. Some games are just great, period, and even more remarkable that they're the work of a small team with a small budget and a big dream that goes a long way. Gemini Rue is one of those games, so no arguments here that Joshua Nuernberger's sci-fi tale is the runaway winner of best independent adventure of the year.
It's only fitting that Amnesia: The Dark Descent was the runaway winner for staff and readers alike. After all, we did so much running away while PLAYING this game. Resisting the urge to give players weapons or special abilities, indie studio Frictional Games was determined to make a game where the greatest fear was fear itself – a gutsy move that would likely never have made it past the meeting room of a mainstream publisher.
Bet you didn't see this one coming! Well, maybe the whopping five readers' choice awards so far was a bit of a clue that Machinarium would be the overwhelming winner for top indie adventure of the year. And for good reason – many good reasons, in fact, as Amanita Design's first foray into the world of full-scale adventures was a huge success for the tiny Czech studio.
Vive la différence! While AG staff and readers alike found Casebook and the fifth Carol Reed mystery to be worthy of recognition, the top public vote goes to Diamonds in the Rough. The first commercial game from Atropos Studios tells the story of Jason Hart, a young man with a special ability to choose the correct answer when presented with multiple options. Say, sounds a little bit like the reader poll!